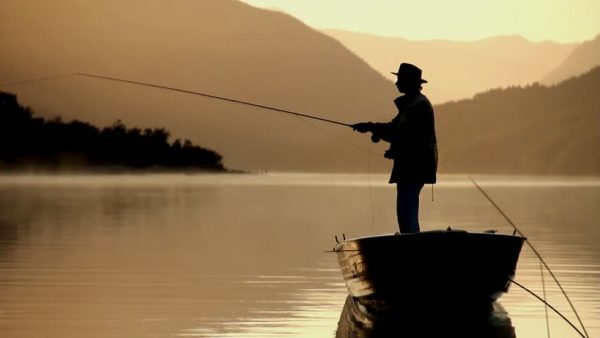 Let the future be dammed
"Give a man a fish and feed him for a day. Teach a man how to catch a fish, and you feed him for a lifetime". This statement applies not only to work, but to all finite resources. Another way to look at it is that we can spend now without having a lasting effect, or we can invest and reap the benefits for years to come. Rather than throwing a lifeline to farmers through handouts, this is precisely what building dams and pipelines would do in terms of securing a better future for regional Australia.
It is therefore very pleasing to see the Federal Governments scientific blueprint to transform northern Australia into the next great food bowl with the proposed development of up to six new dams. The total construction bill is estimated at $2.8 billion. I never thought I'd refer to that amount of money as chicken feed, but if we accepted the NBN as a good investment at $50 billion and are proceeding with the Cross River Rail (CRR) project at nearly 3 times that cost, this project is a no brainer. The dams are projected to lead to 15,000 agriculture related jobs from being able to irrigate 390,000 hectares of land and generate $5.3 Billion in economic activity PER YEAR in Northern Australia. Considering we currently have just over 2 million hectares of land under irrigation in Australia, this is a much-needed increase in capacity to help feed a growing world population.
Just three of the catchments will cover an area spanning 196,000sq km, almost the size of Victoria. The proposed Pinnacles Dam on the Mitchell river catchment would boost North Qld by $1.5 billion per year and create 7,250 permanent jobs from a $755 million investment (about 10% of the CRR project cost). The Darwin catchment would have a $2.6 billion boost and 2,845 new jobs, whilst the Fitzroy River catchment (in WA) would grow by $1.2 billion and 5,260 jobs.
The dam sites have been chosen to provide an 85% reliability rate, that is, it's collecting rain and other water 85 out of every 100 years – water that now just flows out to sea usually from flooding events. In other words, the wildlife copes with relocation from water events nearly every year, so will be able to adapt. The study also looked at the impact on indigenous populations when selecting the sites that would give the overall best outcome and least disruption.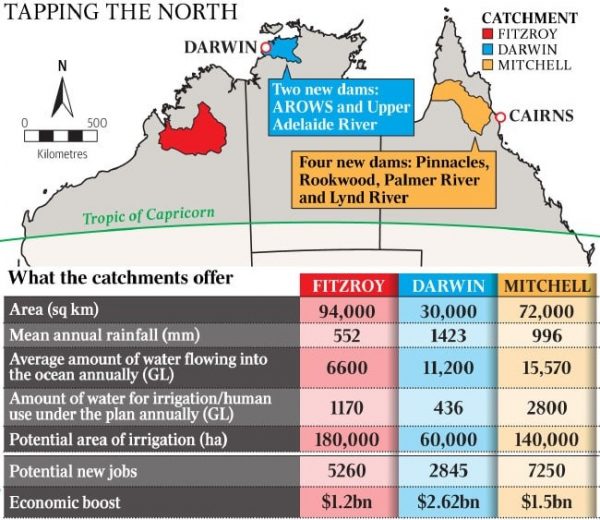 The usual objectors are already throwing their best at it, with a highly intelligent viewpoint of calling this a "kneejerk and ill-informed" move and promising legal challenges and protests. These would be the same people who don't live in the regions and aren't farmers, but expect nothing less than the freshest produce year round. As the Dam proposal has come about from a recommendation by the CSIRO's "Northern Australia water resource assessments" study, which was conducted by a team of more than 100 scientists over more than 2 ½ years of site assessments and investigation, the recommendations are quite well founded one would think. The proposed dam sites were chosen to give the maximum environmental benefits with the least possible detrimental effects. I love the environment and spend more time than the average person in and around dams, and whilst I'm sure there will be the odd displaced frog or so, the environment around most dams are vibrant and fantastic places to be. So I'll agree with Senator Canavan that we need to just get on with building these dams, and politely ignore the loudmouthed minority of objectors, and think about the future of the next generation in our regional and indigenous communities.
Casual no more
In another development set to reverberate through our industry over the next year or so, the Federal Court has ruled against Workpac that Casual employees are entitled to annual leave and redundancy payments. With at least 1.6 million casuals employed in Australia working on a regular ongoing basis, the potential costs to employers is estimated at $5.7 to $8 billion.
It's one thing if people are underpaid simply because they are casual. The concerning part of this verdict (likely to be appealed) is that employers who have been doing the right thing are exposed to back pay in what can only be described as "double dipping". The rules have been generally pretty clear about casual employment in that there is a 25% casual leave loading paid on top of the equivalent permanent rate, which is to compensate for the lack of paid leave and other conditions that come from permanent employment. Further, so long as a casual is offered permanency at least every 12 months, the casual has had the option of remaining casual (an employee's but not the employers right).
The "winners" in all this will only be the Unions (who pushed the case) looking to boost dwindling membership numbers, along with the litigation lawyers. For the parties that matter, it is a lose-lose. Less people will be able to enter the employment market as employers will not risk casual employment contracts. And for those persons who do get employed as casuals, there will have to be "randomness" to the employment arrangement. So no more 7 days on / 7 days off, or the same start and finish times, and most likely people will be sent home early if there is no work left to do. This will have a very detrimental effect on the social and financial stability of employers and employees alike.
As always, onwards and upwards!
Fred Carlsson
General Manager
You may also be interested in