Proper maintenance maximises fuel efficiency and reduces operating costs as well as equipment failure. Scheduled maintenance can help contain these expenses and maximise productivity.
Daily Inspection Checklist
Take the time to perform a daily walk-around inspection before operating the excavator. The inspection does not require much time and can easily pay for itself if an issue is discovered.
The following items should be checked prior to operation:
Check to make sure there is enough coolant
Check engine oil and hydraulic oil levels
Check for leaks in compartments and under machine
Check track (see Undercarriage below for more detailed information)
Check coolers to make sure they are free of debris
Drain water from fuel/water separator
Check dust ejector from air filter
Make sure teeth are present on bucket and they are in good condition
Check wear plates on bucket
Grease all pins and bushings daily
Check controls and seat belt in cab and make sure they are operating properly
Turn on machine and check controls, windshield wipers, seatbelt and air conditioning system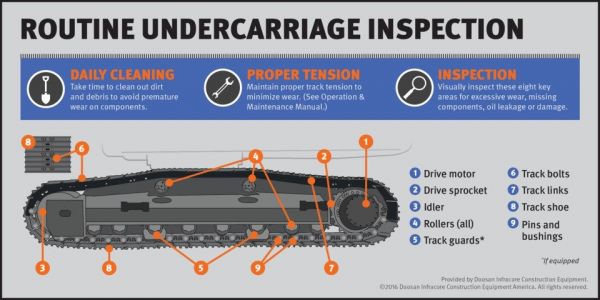 Undercarriage
The undercarriage is an expensive part of owning and operating an excavator. When operating the machine, always work and dig over the idler, as opposed to the side or back of the excavator, and operate the machine in the forward direction as much as possible to avoid excess wear. If the excavator needs to sit for extended period of time, start the machine every few months and exercise the track to avoid pins seizing.
The following items should be inspected to ensure proper track operation:
Look for loose bolts on track and tighten if necessary.
Look for bent shoes on tracks. The shoes support each other and one bent shoe can lead to additional bent shoes.
Replace bent or damaged guards and guides on bottom of track.
Inspect sprocket and drive at rear of track for oil leaks and to make sure all bolts are present and tight.
Clean out debris from around track and adjust track tension if necessary to avoid excess wear (Note: Do not run tracks too tight — refer to maintenance manual for proper tension.)
At RDW Excavator Parts we stock only the best quality undercarriage that has been proven over time. Track Chains, Idlers, Bottom rollers, Carrier rollers, Sprockets, Track plates/Grousers, Track Adjusters, Recoils Spring Assemblies, Nuts and Bolts to suit machines from 4t – 250t for most makes and models of excavators, drill rigs, crushing and screening plants.
Our Track Chains have a proven reputation over the last 40 years. The sealed and greased link assemblies are available in a variety of models, which have been designed for direct interchangeability with the original equipment assembly providing exceptional Heavy duty performance.
All undercarriage components have been sourced from companies leading the world in manufacturing Technology. All parts are manufactured in accordance with ISO9001 and ISO14001 standards, manufactured to high quality standards to meet the demands of tough Australian operating conditions.
Our range includes:
Hitachi
Volvo
Case
Hyundai
Liebherr
Yanmar
Sumitomo
Samsung
Daewoo
Doosan
Kobelco
Fiat
John Deere
Kubota
Takeuchi
You may also be interested in