With its innovative and patented technology, the Maxbrio Vibro ripper has been designed to increase productivity and efficiency in certain applications by up to 5 times more than conventional rock breakers.
Applications such as mining & quarrying, trenching and road construction with a reduced noise level.
Suitable for 12 to 65 tonne excavators.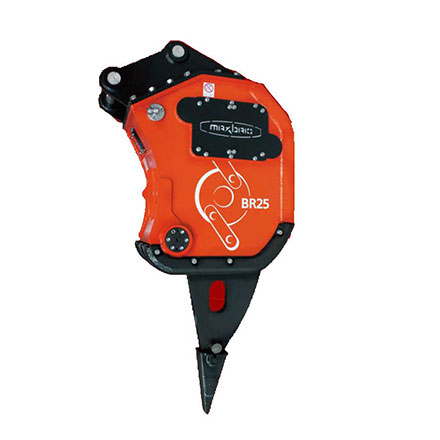 | | | BR15 | BR25H | BR25 | BR35H | BR35 | BR45 | BR55 | BR65 |
| --- | --- | --- | --- | --- | --- | --- | --- | --- | --- |
| Applicable weight | tonne | 12-27 | 18-27 | 21-27 | 28-35 | 28-35 | 36-42 | 43-55 | 56-65 |
| Height (a) | mm | 1770 | 2316 | 2468 | 2448 | 2630 | 2912 | 3018 | 3416 |
| Length (b) | mm | 1030 | 1095 | 1208 | 1152 | 1310 | 1440 | 1486 | 1617 |
| Width (c) | mm | 760 | 806 | 806 | 825 | 855 | 913 | 928 | 1033 |
| Tooth (d) | mm | 265 | 470 | 470 | 470 | 470 | 470 | 575 | 575 |
| Frequency | vpm | 1700 | 2500 | 1700 | 2500 | 1700 | 1700 | 1700 | 1700 |
| Setting pressure | psi | 3556 | 3556 | 3556 | 3698 | 3556 | 3556 | 3556 | 3556 |
| Oil flow | l/min | 100-120 | 150-170 | 120-140 | 180-200 | 180-200 | 260-280 | 290-310 | 320-350 |
| Air pressure | BAR | 4 | 4 | 3 | 4 | 4 | 3 | 3 | 3 |
| Main body weight | kg | 1300 | 1900 | 2240 | 2460 | 2960 | 3760 | 4360 | 5570 |