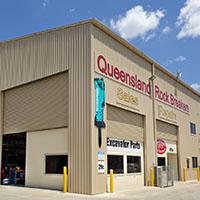 The ability to remotely control mining equipment not only removes people from hazardous and inhospitable working environments, it offers opportunities for increased efficiency, productivity and profitability in mining and construction.  Research conducted at the CSIRO will enable the safe and effective use of telerobotic control of mining equipment over distances of thousands of kilometres.  To offer operators increased levels of immersion and robotic control, the technology was trialled in 2008 on a rock breaker machine operated at Rio Tinto's West Angeles iron ore mine and controlled by an operator at a distance of 1,000km away in Perth.
As with most rock breakers, the machine used to conduct the first major test at the iron ore mine had a large jointed arm fitted with an hydraulic hammer for smashing oversized rocks.  Signals from strategically placed sensors and high-resolution digital cameras on the rock breaker arm and Run-of-Mine bin were fed back to a local control room that processed the data, monitored site safety and controlled the state of the hydraulic control system.  Through the user interface over 1,000km away, the operator could "fly around" the rock breaker machine to inspect the over-sized rocks from different angles, and once an appropriate breaking strategy had been established, they could then deploy the rock breaker arm with a joystick.
Trials during 2008 culminated in a production field trial which demonstrated that the telerobotic rock breaker system is safe and productive – indeed sometimes faster than traditional on-site operation.  Importantly, it also integrates seamlessly with normal mine operations.
Always striving to stay on top with the latest technology developments, Queensland Rock Breakers through RD Williams offers our customers an extensive range of  Rock Breaker Parts for all brands of rock breakers.  Also, our dedicated team of hammer specialists is equipped to handle all repairs and rebuilds for all makes of rock breakers at its Rock Breaker Workshop.
For more information on rock breaker parts and repairs, phone our friendly and knowledgeable sales team on 07 3715 0800.
You may also be interested in