The foundation for ensuring the next generations success in business is to instil in them the same enthusiasm as the founder has. As well as of course sharing knowledge that has come from many years of making good (and bad) decisions, the founder needs to pass on the reigns to a particular character of person with substantial commitment to make it through the critical five-year period and maintain the successful formula.
My biggest take away from the recent Diesel Dirt and Turf exhibition in Penrith was talking to the next generation of earth movers. RDW have never been particularly big into trade shows, and to be perfectly frank, we weren't sure about the concept of targeting families. I am pleased to admit to having been proven incorrect, and the organisers of the show did a terrific job in coping with everything from 70km/hr winds with marquees stretched to their limits (and beyond), Motocross riders missing their landings, through to excellent traffic management. And of course, attracting thousands of relevant visitors to see the many professional displays.
Our industry has matured in many ways, and we need to get the next generation involved at an early stage. It was very pleasing to see the interest in future technology and customers looking for their own competitive advantages. On our own stand, the interest in the new Allu Transformers and unique Osakada hard-core chisels caught the early adopters interest, whilst the value hunters' enthusiasm was curtailed by the value-for-money Everdigm rock breakers, RB general attachments, and comprehensive range of undercarriage. Click here to view the official DDT video on the exhibit.
The most memorable discussion was with a family whose 13 year old son knew what most of the parts on our display were. His enthusiasm was unparalleled, and the pride both him and his younger brother showed from wearing their business' uniform showed that this family business is heading for a very bright future indeed.
As the old saying goes, the best way to give your children a medium sized company is to give them a large one. There were only a handful of mid-twenties know-it-all's-with-attitude that fit this category. These guys weren't a patch on the fathers they were following around, but it was very pleasing to see that these people were few and far between, and the future of our industry is overall in very capable hands.
Thank you to all our valued customers, new and old, who made the time to come and see us. It was great seeing you all!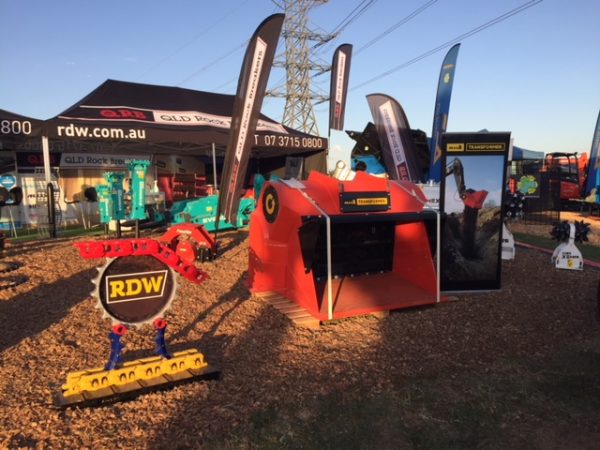 The importance of securing your machine
A concreting contractor in Victoria has been fined $350,000 for failing to secure their skid steer. After finishing a job on a customer's site, they left the skid steer in the clients' garage with the keys in the machine. Unbeknown to the contractor, the client's 37-year-old son decided to use the machine to level a nature strip. He was found dead with head injuries in the operator's seat, with the safety bar not in position and the bucket raised, and bogged with the wheels spinning.
This is obviously very tragic, and I do have an issue with that it appears that the machine had not been getting serviced and repaired properly, which would have at least reduced the potential for an accident. However, there is a big heads up in this for all machinery owners that you are still responsible even when someone uses your machine without your permission and/or if they aren't deemed competent, even if the incident happens on their own land without your knowledge. This seems to override even personal responsibility.
As always, onwards and upwards!
Fred Carlsson
General Manager
You may also be interested in