Rod Williams has been widely acknowledged as improving the Earthmoving industry in Australia by raising the industry standards of used machinery dealers. Since 1988, Rod's principles of standing behind everything his business does through giving the market top quality products at value for money prices has guided the direction of the RD Williams businesses.
It is this consistent goal to be the best at meeting the needs of the market that has now driven RD Williams to evolve. To become even easier to do business with, the businesses are streamlining the business names to simply RDW.
 We will now be known as:
RDW Machinery
RDW Excavator Parts
RDW Parts
QRB Qld Rock Breakers
We are very proud of our achievements during nearly 3 decades of growing our businesses to where we now meet the full needs of earth moving companies in Australia. Shortening the names from RD Williams to RDW keeps with our heritage of providing effectiveness in all that we do.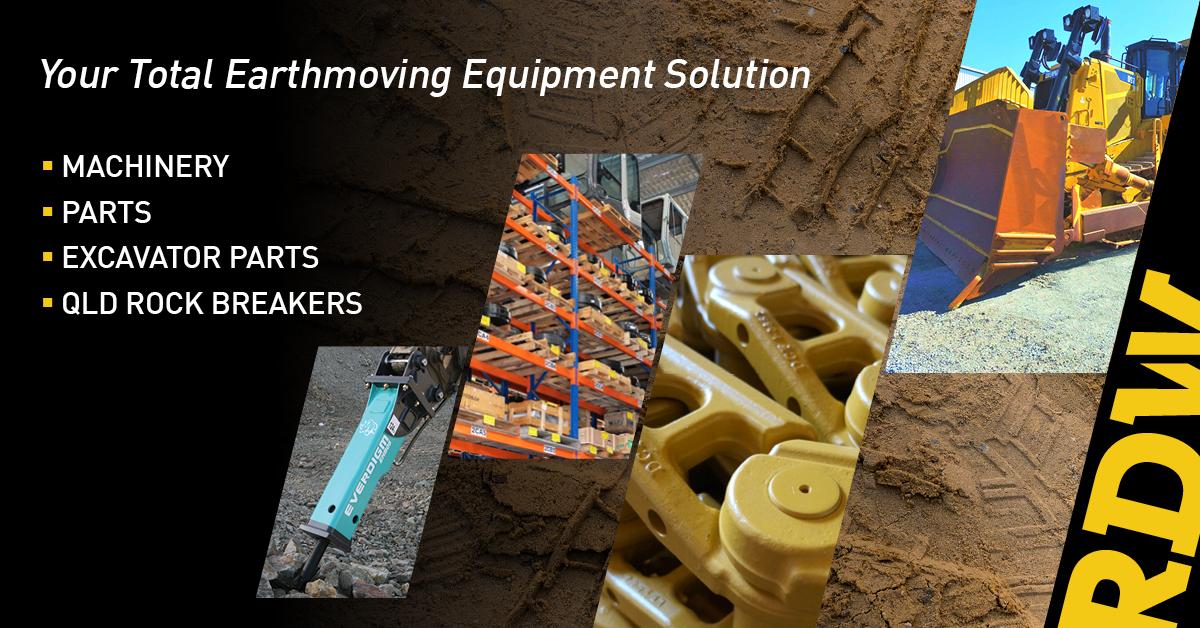 RDW Machinery has continued to adapt to the ever-changing market. By sourcing low hour and unused machines, our customers benefit from the significantly reduced capital outlays and lower ownership costs whilst getting the optimum machines for their needs. Our in-house workshop allows us to change the specifications of machines quickly to meet our customers' requirements to start their job.
Whilst there have been recent campaigns by several Original Equipment (OE) manufacturers to discredit new replacement parts, both RDW Parts and RDW Excavator Parts sales continue to increase. Our customers understand the savings they can bank by using New Replacement parts. The demand is only there because either the OE part fails or is too expensive for what it is. Many OE parts are produced by third parties anyway, often in China, and then simply marketed as "genuine". We have worked with most of our suppliers for decades now to develop parts that overcome these issues to help reduce the total cost of ownership for our customers. Having in excess of 70,000 line items of Earthmoving Parts in stock ensures short lead times too.
After listening to customers' frustrations, RDW actively works with our Australian and overseas partners to develop and distribute top quality products at value for money prices. Examples include RDW Excavator Parts development of a range of buckets and other attachments to ensure the company can meet the full needs of Excavator owners. Using only the most suitable grades of bisalloy steel and welding techniques, we stock a full range of attachments to suit 12 to 40 tonne machines. A clever pick up design means that we can have products ready for despatch within a business day for most makes and models. RDW Excavator Parts is widely acknowledged as a leader in all parts for all brands of excavators, including undercarriage and hydraulics.
Through superior product choices, RDW Parts has also driven market acceptance of new replacement parts for the full range of earthmoving machinery. We try to source as much Australian made product as possible, from big items such as grader blades through to nuts and bolts and of course component rebuilds. Investment in product development has led to the stocking of forged ripper boots and compactor caps, with customers reporting 30-40% longer life (compared to cast). Other examples of parts developed to improve on OE parts include the development of wider scraper rollers to allow for better flight tracking.
QRB Qld Rock breakers is the fourth company in the RDW suite of businesses, and provides a full range of specialist attachments for excavators. The foundation is the 15-year association with the top quality Korean Everdigm/Rhino rock breakers, coupled with industry leading product knowledge, and a significant stock holding.
We wish to take this opportunity to say a sincere Thank You to our many valued customers that have entrusted us to work with you over all these years and the great number of personal friendships we've created in the process. We look forward to continuing to support you and your business for many decades to come.
As always, onwards and upwards!
Fred Carlsson
General Manager
You may also be interested in