RD Williams is your total earthmoving equipment solution. We have a range of quality new, used and refurbished earthmoving machinery earthmoving parts excavator parts and rock breaker parts that stand up to Australia's harshest working conditions.
We have a number of high-quality pieces of equipment currently for sale at our Rocklea location in Brisbane, Queensland and here are our earthmoving equipment machines of the month.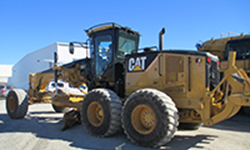 Currently we have for sale a Caterpillar 14M Articulated Motor Grader. It is a 2009 model with 2,366 hours to its name. This machine has tandem drive capability with joystick operator controls. There is an Air ROPS Cabin, a 14ft blade, Rear Ripper and Accumulators to make this articulated Motor Grader a strong and reliable machine for your construction project. It can be yours for $385,000 plus GST.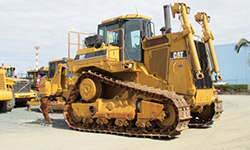 There is also a Caterpillar D9T Dozer for sale at our Rocklea plant. This machine has excellent productivity and optimal operator comfort. It features a Cat C18 ACERT engine, an AIR ROPS cabin and an S/U Blade. As a 2005 model it has performed for 7,085 hours. The multi shank ripper is capable of achieving up to 3800 psi. Purchase this Caterpillar dozer for $585,000 plus GST.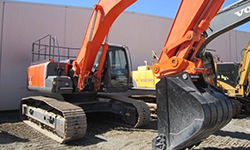 If you are in the market for a high-performing excavator our Hitachi ZX270-3 Excavator will fit the bill. It has been fully serviced so you are guaranteed of a safe and reliable piece of equipment. The excavator is a 2007 model with 1,450 hours of service. It has a quick hitch, hand rails, craning valves, GP bucket and reversing camera which add to this quality earthmoving vehicle. Own this quality excavator for only $169,000 plus GST.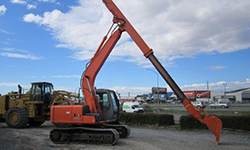 RD Williams is also selling a Hitachi ZX120 Excavator as part of its machines of the month. You are guaranteed a quality piece of equipment in this model thanks to its 900mm GP bucket and 500mm track shoes. Its Standard Arm attachment has a digging capacity of up to 12m. The cabin is air conditioned for your operator's supreme comfort. As a 2004 model with only 650 hours to its name it is outstanding value at $155,000 plus GST.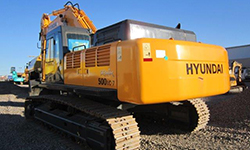 Last but certainly not least is our Hyundai R500LC-7 Excavator. This valuable model's specifications include 50 ton capacity, GP bucket, 500mm track shoes and up to 320 hp output. It is a 2011 model with only 33 hours of work which has kept this vehicle in great condition. This is a great buy for only $250,000 plus GST.
Let RD Williams supply your earthmoving, construction and mining projects with exceptional quality equipment. Our team of experienced personnel will help you find machinery for sale, earthmoving parts, excavator parts and rock breaker parts that suit your requirements and meet your budget.
You may also be interested in